Description
Discover breathtaking environments and battle titanic creatures in this collection that includes Monster Hunter: World and its massive expansion, Iceborne. As a hunter, you'll take on quests to track & slay monsters in a variety of living, breathing habitats. Take down these monsters and use their materials to forge even more powerful weapons and armor, then prepare for even tougher foes as the story unfolds. Each discovery adds new areas, creatures and drama to the adventure! The Iceborne expansion adds new monsters, gear and abilities to Monster Hunter: World. Picking up right where the base game left off, the Research Commission and your hunter set off to a new polar region, kicking off a brand-new story set in Hoarfrost Reach. From this frigid staging ground, you'll encounter all-new creatures, forge amazing new weapons and armor, and tackle thrilling quests that offer some of the most challenging encounters yet. Conquer these missions alone, or play online with other hunters for epic multiplayer quests.
Features
Contains both Monster Hunter: World and the Iceborne expansion
Explore sprawling locales teeming with undiscovered creatures and thriving ecosystems
Battle fearsome monsters not only to craft new weapons & armor, but also to drive the story forward and uncover the mysteries of the New World and Hoarfrost Reach
Extensive single-player campaign that also allows drop-in multiplayer; use the SOS Flare to summon other hunters for an assist!
Use monster materials, as well as items found growing in the wild, to craft new items and gear
Overview
Battle gigantic monsters in epic locales.
As a hunter, you'll take on quests to hunt monsters in a variety of habitats.
Take down these monsters and receive materials that you can use to create stronger weapons and armor in order to hunt even more dangerous monsters.
In Monster Hunter: World, the latest installment in the series, you can enjoy the ultimate hunting experience, using everything at your disposal to hunt monsters in a new world teeming with surprises and excitement.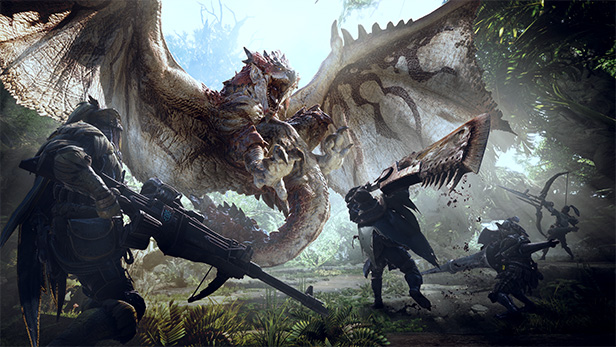 Setting
Once every decade, elder dragons trek across the sea to travel to the land known as the New World in a migration referred to as the Elder Crossing.
To get to the bottom of this mysterious phenomenon, the Guild has formed the Research Commission, dispatching them in large fleets to the New World.
As the Commission sends its Fifth Fleet in pursuit of the colossal elder dragon, Zorah Magdaros, one hunter is about to embark on a journey grander than anything they could have ever imagined.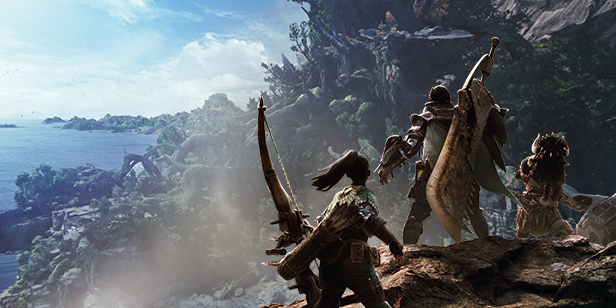 ECOSYSTEM
A World That Breathes Life
There are various locations teeming with wildlife. Expeditions into these locales are bound to turn up interesting discoveries.
HUNTING
A Diverse Arsenal, and an Indispensable Partner
Your equipment will give you the power to need to carve out a place for yourself in the New World.
The Hunter's Arsenal
There are fourteen different weapons at the hunter's disposal, each with its own unique characteristics and attacks. Many hunters acquire proficiency in multiple types, while others prefer to attain mastery of one.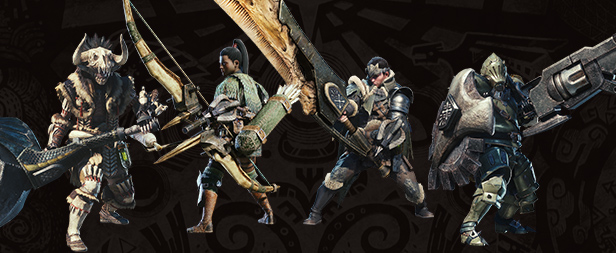 Scoutflies
Monster tracks, such as footprints and gashes, dot each locale. Your Scoutflies will remember the scent of a monster and guide you to other nearby tracks. And as you gather more tracks, the Scoutflies will give you even more information.


Slinger
The Slinger is an indispensable tool for a hunter, allowing you to arm yourself with stones and nuts that can be gathered from each locale.
From diversion tactics to creating shortcuts, the Slinger has a variety of uses, and allows you to hunt in new and interesting ways.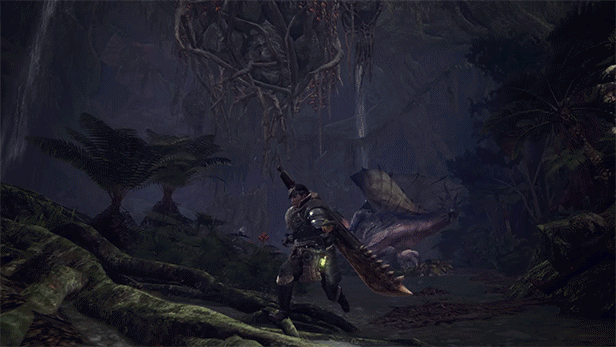 Specialized Tools
Specialized tools activate powerful effects for a limited amount of time, and up to two can be equipped at a time. Simple to use, they can be selected and activated just like any other item you take out on a hunt.


Palicoes
Palicoes are hunters' reliable comrades out in the field, specialized in a variety of offensive, defensive, and restorative support abilities.
The hunter's Palico joins the Fifth Fleet with pride, as much a bona fide member of the Commission as any other hunter.